When you install a digital certificate on Windows, it does not prompt your password. You may want to add additional security by forcing Windows to prompt password.
This solution seems to work only on Chrome, while Firefox ignores it.
Steps to make Windows prompt a Password when Digital Certificate is used
1. Get a file with the digital certificate
You can either download the digital certificate file right from the CA (Certification Authority) or export it from a browser.
2. Install certificate with the correct security settings
Double-click on the digital certificate file.
Choose either user or local installation, depending on your choice and click "Next".
The path of the file to be imported is automatically filled. Click "Next".
Double-click on file. In the screen, mark option "Enable strong private key protection".
Mark the other two options ("Mark this key as exportable" and "Include all extended properties") as your prefer. Click "Next".
On the next screen (Certificate Store), select the place where you want to store the digital certificate. Click "Next".
Click on "Finish".
On the next screen (Importing a new private exchange key), click on "Set Security Level…" button. On the dialog, mark the radio button "High".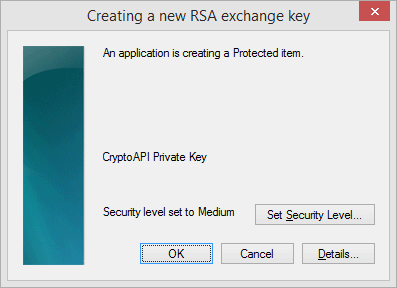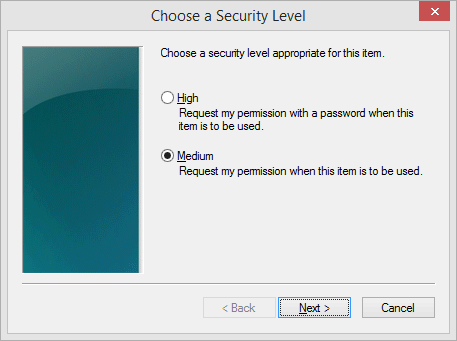 On the next screen, enter password twice.
3. Test your digital certificate
Go to a page where digital certificate is used and test it. Password should be prompted.
You might be also interested in…
External references