Press and magazines usually come with a barcode that is located in the last page or back cover of these publications.
This post tries to clarify the use of this barcode.
Breakdown of Linear Barcodes used in Press
ISSN (International Standard Serial Number) is a code that identifies a periodical publication. ISSN follows the standard EAN-13 for linear barcode
The standard linear barcode in press is split into two sections:
13 digits (ISSN code)
2/5 digits (periodic code/Adendum)
Example of 13 + 2:
1234567890123 + 12
Example of 13 + 5:
1234567890123 + 12345
Breakdown of international press linear barcode: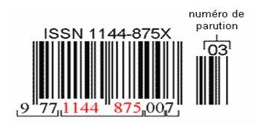 EAN-13

123: EAN prefix
4567890: ISSN without last cipher
12: Prix code. It identifies if prices are special (extraordinary issues, double issue, etc.). If it is a normal issue its value is 00.
3: Control digit (using algorithm EAN-12) and last ISSN cipher.

Adendum

+12: Adendum (length 2). Indicates the number within periodicity.

Quaterly: From 01 to 04
Monthly: From 01 to 12
Weekly: From 01 to 52

+12345: Adendum (length 5). It identifies the issue number.
Example of Spain code: 8414520000020 + 02540
External references