Some laptop users prefer to use US international keyboards on their computer, despite their first language is not American English or they do not live in the USA. The reasons may vary: some are developers that find that characters frequently used on programming are much more reachable on US international keyboard layout than on local layout; others move to one country to another often and they got used to work with a keyboard that is easily available internationally. Another reason can be that they are people that switch to different languages often so they want to use a layout where all characters related to common Western languages are accessible.
I am one of these weirdos that prefer to use a US international, and I found problems by 2020 to find a Windows/Linux laptop in Spain that was sold with this laptop.
Laptops with US international layouts are that not easy to find outside USA. Here, I encourage computer manufacturers to allow more laptop customization on US international keyboard for this globalized world.
Below you can find some solutions I found about how to buy a laptop with US international keyboard outside USA.
Import a laptop from a USA retailer
One solution would be to buy the laptop directly from USA. US international layout is similar to US.
Some shops allow you to ship internationally and some don't, so you need to check it first for these shops.
US shops that ship internationally (most times):
Shops that do NOT ship internationally (as of 2020-11):
Walmart.com
BestBuy.com
Acer.com
Buy it on an overseas store that sells laptops with US international keyboards
Spain
Worten.es
Worten.es has a Keyboard filter in searchs so you can select only laptops with "Universal" keyboards (meaning US international keyboard).
Nevertheless, the number of computers with this type of keyboard is very limited. It was seven when I searched it.
Stores not selling laptops with US international keyboard
I have not found options to filter results by keyboard layout or keyboard customization on these webs from Spain (as of Dec-2020):
PCComponentes
MediaMarkt
El Corte Inglés
Fnac
Amazon.es
Buy a brand that allows US international keyboard customization outside USA
Some brands offer US international keyboard as an option when purchasing them in a store outside USA.
Apple
When you buy an Apple computer, usually it allows to choose the keyboard layout. Both local layout and US international layout are available anywhere around the globe.
Dell
When you buy a Dell laptop from its web, it allows to customize some components of the computer, like processor, OS, etc. Some models have , for example, Dell Inspiron 14 7000 on Spain store.
Some users say here that it is more probable that business version of laptops offer US international keyboard as customization. To change for the business version, find the consumer version in the URL (e.g. cnx4313) and change it for the business version (e.g. bnx4313) just by replacing the first 'c' with a 'b'.
In any case, the previous example I gave is a consumer version and it offers US international keyboard as an option, so this is not a law.
Another option, in case the previous ones did not work, is to contact Dell by chat, e-mail or phone and ask for the US international keyboard version of the laptop.
Clevo-based computers
Clevo is a Taiwanese OEM/ODM computer manufacturer which produces laptop computers exclusively. They sell barebone laptops chassis (called barebooks) to resellers who build customized laptops for individual customers, including US international keyboard options.
Below you can find a list of some Clevo computer resellers.
Clevocenter
Clevocenter is based on Portugal, but sells in many European countries. They allow keyboard layout customization.
Their laptops can be bought here:
https://clevocenter.com/
Schenker
Schenker is a business-oriented computer brand that assembles computer components in Germany and allows customization, including keyboard. They work on Clevo chassis.
They can be bought from BestWare store:
XMG
Schenker is a gaming-oriented computer brand that assembles computer components in Germany and allow customization, including keyboard. They work on Clevo chassis.
They can be bought from BestWare store:
Brands not offering keyboard customization
As of Dec-2020, I have tried myself these stores and found that they do not offer keyboard customization:
Lenovo (Spain store)
Acer (Spain store)
Asus (Spain store)
LG (Spain store)
HP (Spain store)
Buy a laptop that sells US international replacement keyboard
You can do some research to see if you can find keyboard replacement for a laptop. Then buying the laptop with the default regional keyboard, and then removing it and installing the US International Keyboard yourself.
For example, Dell XPS 13 US International keyboard replacement is available on Amazon.es, through this link.
Other alternatives
Use keyboard stickers
You can place buy a set of stickers for US international keyboard and place it on each key, over the local layout.
Use keyboard skins
There are silicone keyboard skins available for some laptop models, like Apple's.
You can find an example of Spanish QWERTY skin for MacBook Air here.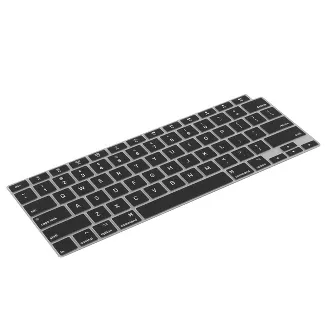 Use an external keyboard
You can use a external keyboard with US international keyboard. But that would not be possible on all ways, because if you are using a laptop you may be looking for mobility.